Impacting the Individual: The Wilsons and the Husky Fellowship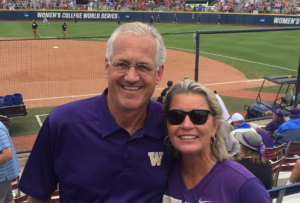 It was at her first UW football game upon returning to Seattle that Dixie Wilson realized how important sports are in creating community. A UW alumnae ('77), she attended many games as a student, but after a successful career outside of Seattle, she came back and found inclusion once more in the stands. 
"What I found when I came back to Seattle is how UW athletics is the front door to the university. Having been away for so many years, being back in the stadium allowed me to reconnect with old friends and get back in the fold." 
For Dixie, the fold meant becoming a volunteer at Seattle Children's Hospital and UW Medicine. At UW, her fundraising and advocacy on behalf of the Alzheimer's Disease Research Center (ADRC) led to her introduction to Dr. Stan Herring, who was hard at work advocating for the passage of the Zackery Lystedt Law. That first-in-the-nation law required any athlete showing signs of concussion to be examined by a medical professional before returning to play. Dixie's  interest in concussion protocols and health and safety of student-athletes is what inspired the Wilsons to support the work of The Sports Institute, which was co-founded by Dr. Herring in 2015. 
As a new member of the UW Athletics Tyee Board, the members were challenged to support a university sport. That led Dixie and her husband Steve to softball, and their first opportunity to get to know student-athletes personally. 
"We had functions with them, hosted breakfasts, and were absolutely delighted and utterly inspired by them, both individually and as a team. So, when you get to know them first-hand and see them not just on the playing field but up close, you ask yourself 'how can you not be inspired to want to help these young people?'" 
The Husky Fellowship, launched by The Sports Institute and UW Athletics in the fall of 2019, is an internship program that provides important professional development to UW student-athletes. Less than two percent of collegiate athletes go on to play their sport professionally. Instead thousands of athletes each year transition out of competitive sports and into the workforce after graduation, without having learned important work skills due to the demands of their athletic schedules. 
"When I first learned about the Husky Fellowship, I thought it was the perfect combination of athletics and medicine," Dixie says. "What really resonated with Steve and I was the opportunity to do something to help individuals, specifically student-athletes. As soon as we found out about the Husky Fellowship, we just looked at each other and said 'This is it. This is exactly what we want to do.'" 
For the Wilsons, watching how much each student-athlete has grown during their fellowship experience is what continues to inspire them about the program. The fellowship has seen four student-athletes (with a fifth currently in their stint) learn a great deal professionally. However, the most rewarding for Steve and Dixie is hearing how much they've also learned about themselves.
"Equally, if not more important to me, is what fellows get out of it on a personal level", Dixie says. "They are learning about themselves on a human level and growing exponentially through the process. Each fellow has expressed how the program has helped them grow and develop more confidence in themselves, which is inspiring. They are getting to know themselves in ways that they haven't had the opportunity to in other programs and are so candid and open about it, which is the story that I can't wait to talk about. The more I hear from fellows about their experience, the greater that story is."
For Dixie and Steve, this is what makes the fellowship so valuable to the UW. It  is one of the best kept secrets at the university and a story that needs to be shared. 
If you would like to hear more about impactful stories coming from the Husky Fellowship program, or if you are interested in becoming more engaged, Dixie Wilson and Sara Mosiman, Associate Director of The Sports Institute, would be happy to meet you for a coffee, or a zoom to share more. To schedule a meeting, or for more information, please contact Christa Farmer at (206) 221-0635, or [email protected].