Myth: Specialize Early to Become an Elite Athlete
Mounting evidence challenges a deeply held conviction among youth sports participants that specializing in a single sport at a young age is critical to success.
Increasing numbers of parents, athletes and coaches believe that early specialization will provide athletes with a head start—that by focusing intensively on one sport year round, they'll get better at it than other kids and achieve greater athletic success. With this will come social, economic and other benefits.
Meanwhile, doctors and other health professionals caution that early specialization can have a darker underside—that, compared to multi-sport athletes, young single-sport competitors are more likely to develop overuse injuries, suffer from stress and early burnout, or dropout out of sports altogether.
Is it necessary for young athletes to specialize in one sport to succeed in athletics later? The short answer: Probably not.
The allure of elite status
The American Academy of Pediatrics says early specialization occurs when an athlete focuses on a single sport at the exclusion of others, often year round, before reaching puberty. Although the AAP and other medical societies advise against early specialization, faith in its prowess continues to grow.
Examples abound. According to a 2018 survey, most youth club athletes believe that specialization will improve their performance and the chances of making both their high school team and a college team. They also believe specialization will increase the likelihood of receiving a college scholarship.
Similar prospects buoy the hopes of athletes' parents. In a 2017 survey taken at a New York City sports medicine clinic, half of parents encouraged their children to specialize, and more than half believed their children would play in college or professionally.
Hopes at odds with reality
Unfortunately, athletes' and parents' expectations are vastly at odds with reality.
The math is fairly straightforward and unforgiving. There are close to 8 million athletes playing in high school. There are fewer than half a million slots for athletes on college teams. That means, on average, about seven out of 100 high school athletes make a college team. Perhaps one in 100 receives a scholarship. And even fewer make it to the Olympics or pros.
Despite the achievements of prodigies such as Tiger Woods and Mikaela Shiffrin, there is surprisingly scant evidence that the majority of athletes who achieve elite status do so because they specialized at an early age. Indeed, most of the evidence supports the contrary view.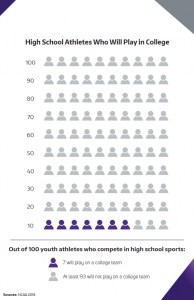 Source: NCAA 2018
Most elite athletes did not specialize in their youth
Data collected over the past few years—including the first studies in professional athletes—suggest that early specialization is not necessary to achieve elite levels of performance. Compared to other athletes, athletes competing at the highest levels more often postpone specialization until later in adolescence and compete in more sports during high school.
Free play and pickup games
The AAP points out that early specialization programs may leave little time for the free play or pickup games that kids do just for fun, without reward. And they have the potential to harm children's health in numerous ways.
Whether early sports diversification is the reason some kids become better athletes over the long run is unknown, but it doesn't appear to be a barrier. Waiting and specializing later seem to work fine.